MS-9200UDLS

The Fire-Lite MS-9200UDLS Rev 3 with Version 5.0 firmware is a combination FACP (Fire Alarm Control Panel) and DACT (Digital Alarm Communicator/Transmitter) all on one circuit board. This compact intelligent addressable control panel has an extensive list of powerful features.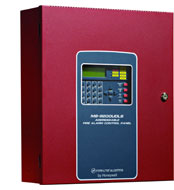 While the MS-9200UDLS Rev 3 may be used with an SLC configured in the CLIP (Classic Loop Interface Protocol) mode, it can also operate in LiteSpeed™ mode—Fire-Lite's latest polling technology—for a quicker device response time. LiteSpeed's patented technology polls 10 devices at a time. This improvement allows a fully-loaded panel with up to 198 devices to report an incident and activate the notification circuits in under 10 seconds. With Litespeed polling, devices can be wired on standard twisted, unshielded wire up to a distance of 10,000 feet.
The MS-9200UDLS Rev 3's quick-remove chassis protects the electronics during construction. The backbox can be installed allowing field wiring to be pulled. When construction is completed, the electronics can be quickly installed with just two bolts.
New features for Rev 3 with Version 5.0 firmware include removable terminal blocks, improved transient protection, additional secondary ANN-BUS, and increased power for the resettable and remote sync outputs.
Available accessories include ANN-BUS devices as well as ACS LED, graphic and LCD annunciators, and reverse polarity/city box transmitter.
The integral DACT transmits system status (alarms, supervisories, troubles, AC loss, etc.) to a Central Station via the public switched telephone network. It also allows remote and local programming of the control panel using the PS-Tools Upload/Download utility. In addition, the control panel may be programmed or interrogated off-site via the public switched telephone network. Any personal computer with Windows® XP or greater, a compatible modem, and PS-Tools—the Fire-Lite Upload/Download software kit—may serve as a Service Terminal. This allows download of the entire program or upload of the entire program, history file, walktest data, current status and system voltages. The panel can also be programmed through the FACP's keypad or via a standard PS-2 computer keyboard, which can be plugged directly into the printed circuit board. This permits easy typing of address labels and other programming information.
Version 5.0 firmware supports the following: Primary and Secondary ANN-bus devices, AD355 (LiteSpeed), USB port, NAC circuit diagnostics, a new report has been added to the walktest that lists untested devices, new device types added: audio telephone type code for ACC 25/50ZST, Photo Supervisory and auto-resettable Drill (non-latching).
The FireWatch Series internet monitoring modules IPDACT-2 and IPDACT-2UD permit monitoring of alarm signals over the Internet saving the monthly cost of two dedicated business telephone lines. Although not required, the secondary telephone line may be retained providing backup communication over the public switched telephone line.
NOTE: Unless otherwise specified, the term MS-9200UDLS is used in this document to refer to both the MS-9200UDLS and the MS-9200UDLS(E) FACPs (Fire Alarm Control Panels).
Features:
Listed to UL standard 864, 9th edition.
On-board DACT.
Remote site or local USB port upload/download, using PSTools.
Four (4) Style Y (Class B) NAC circuits, which can be converted to four (4)
Style Z (Class A) circuits with optional ZNAC-92 converter module. (Up to 6.0 amps total NAC power when using optional XRM-24B.)
Selectable strobe synchronization for System Sensor, Wheelock, and Gentex devices.
Remote Acknowledge, Silence, Reset and Drill via addressable monitor modules or LCD-80F, ANN-80 or Legacy ACS Annunciators.
ANN-BUS for connection to following optional modules (cannot be used if
ACS annunciators are used):
ANN-80(-W) Remote LCD Annunciator
ANN-I/O LED Driver
ANN-S/PG Printer Module
ANN-RLY Relay Module
ANN-LED Annunciator Module
ANN-RLED Annunciator Module alarms only
ROME Relay Option Module Enclosure
ACS/TERM:
ACS Annunciators: Up to 32 Legacy ACM Series annunciators (ACM-16AT or
ACM-32 series). Cannot be used if ANN-BUS devices are used.
Terminal-mode Annunciators: Up to 32 Legacy LCD-80F remote annunciators.
EIA-232 printer/PC interface (variable baud rate) on main circuit board, for use with optional UL-listed printer PRN-6F.
Integral 80-character LCD display with backlighting.
Real-time clock/calendar with automatic daylight savings control.
Detector sensitivity test capability (NFPA 72 compliant).
History file with 1,000-event capacity.
Maintenance alert warns when smoke detector dust accumulation is excessive.
Automatic device type-code verification.
One person audible or silent walk test with walk-test log and printout.
Point trouble identification.
Waterflow (nonsilenceable) selection per monitor point.
System alarm verification selection per detector point.
PAS (Positive Alarm Sequence) and presignal delay per point (NFPA 72 compliant).
NOTE: Only detectors may participate in PAS.
SLC LOOP:
SLC can be configured for NFPA Style 4, 6, or 7 operation.
SLC supports up to 198 addressable devices per loop (99 detectors and 99 monitor, control, or relay modules).
SLC loop maximum length 10,000 ft. (3,000 m.).
See installation manual for wire tables.
NOTIFICATION APPLIANCE CIRCUITS (NACS):
Four onboard NACs with additional NAC capability using output control modules (CMF-300 or CMF-300-6). The four Class B NACs can be converted to four Class A NACs with optional ZNAC-92 converter module.
Silence Inhibit and Auto Silence timer options.
Continuous, March Time, Temporal or California code for main circuit board NACs with two-stage capability.
Selectable strobe synchronization per NAC.
2.5 amps maximum per each NAC circuit.
NOTE: Maximum 24VDC system power output is shared among all NAC circuits and 24VDC special-application auxiliary power outputs. Total available output is 3.0 amps. Using the optional XRM-24B transformer increases 24VDC output to 6.0 amps.
PROGRAMMING AND SOFTWARE:
Autoprogram (learn mode) reduces installation time.
Custom English labels (per point) may be manually entered or selected from an internal library file.
Three Form-C relay outputs (two programmable).
99 software zones.
Continuous fire protection during online programming at the front panel.
Program Check automatically catches common errors not linked to any zone or input point.
OFFLINE PROGRAMMING: Create the entire program in your office using a Windows®-based software package (order programming kit PS-Tools, separately). Upload/download system programming locally to the MS-9200UDLS Rev 3 in less than one minute.
USB upload/download programming with standard Male-A to Male-B cable.
User Interface
LED INDICATORS
AC Power (green)
Fire Alarm (red)
Supervisory (yellow)
Alarm Silenced (yellow)
System Trouble (yellow)
Maintenance/Presignal (yellow)
Disabled (yellow)
Battery Fault (yellow)
Ground Fault (yellow)
KEYPAD CONTROLS
Acknowledge/Step
Alarm Silence
Drill
System Reset (lamp test)
16-key alpha-numeric pad (similar to telephone keypad)
4 cursor keys
Enter