MS-9600LS(E)/MS-9600UDLS(E)

Fire-Lite's MS-9600LS(E) and MS-9600UDLS(E) are compact, cost effective, intelligent addressable FACPs (Fire Alarm Control Panels) with an extensive list of powerful features. The combination of Fire-Lite's newer series devices and legacy 300 Series devices, along with the MS-9600LS(E) or MS-9600UDLSE FACP, offer the latest in fire protection technology. LiteSpeed™ is a patented technology that polls 10 devices at a time looking for new or different information. When new information is found at a specific address, the system polls that device several times for any new data. This improvement allows a fully loaded panel with up to 636 devices to report an incident and activate the notification circuits in under 10 seconds. With this new polling scheme, devices can be wired on standard twisted, unshielded wire up to a distance of 10,000 feet per loop. Each Signaling Line Circuit (SLC) loop supports up to 159 addressable detectors including photoelectric, photoelectric with heat, beam, ionization, photoelectric duct, fixed heat, fixed heat with rate-of-rise, and fixed high-heat detectors. It also supports up to 159 addressable modules including monitor (two-wire detector, normally open devices), dual-monitor functions (two monitor circuits from one module, two addresses used), multimonitor (multiple monitor circuits from one module, multiple addresses used), control (for Notification Appliance Circuits), and relay (two Form-C) modules.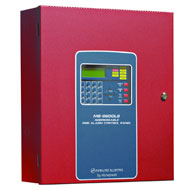 The FLPS-7 power supply is a separate board while all other electronics are contained on a single main circuit board. Both boards are mounted to a quick-removable chassis and housed in a metal cabinet. The backbox can be installed allowing field wiring to be pulled. When construction is completed, the chassis with the electronics can be quickly installed with two bolts.
The MS-9600UDLS(E) includes a factory-installed DACT-UD2 Digital Alarm Communicator Transmitter. The DACT transmits system status (alarm, troubles, AC loss, etc.) to a Central Station via internet (optional IPDACT installed) or the public switched telephone network.
Optional modules, which plug into the main circuit board, are available for special functions. Available accessories include LED, graphic and LCD annunciators, reverse polarity/city box transmitter, digital alarm communicator/transmitter, SLC expansion module, local and remote upload/download software and remote power expansion.
FM APPROVED to UL ANSI 864.
Controls And Indicators
LED INDICATORS
AC POWER (green)
FIRE ALARM (red)
SUPERVISORY (yellow)
ALARM SILENCED (yellow)
SYSTEM TROUBLE (yellow)
MAINTENANCE/PRESIGNAL (yellow)
DISABLED (yellow)
BATTERY FAULT (yellow)
GROUND FAULT (yellow)
Standard Features
SLC LOOP
SLC can be configured for NFPA Style 4, 6, or 7 operation.
SLC supports up to 318 addressable devices per loop (159 detectors and 159 monitor, control, or relay modules).
SLC loop maximum length 10,000 ft. (3,048 m) @ 12 AWG (3.1 mm²) using twisted, unshielded wire (see Wire Table on page 5).
NOTIFICATION APPLIANCE CIRCUITS (NACS):
Four onboard NACs with additional NAC capability using output control modules (CMF-300 or CMF-300-6). The four Class B NACs can be converted to two Class A NACs with the NACKEY (included).
Silence Inhibit and Auto Silence timer options.
Continuous, March Time, Temporal or California code for main circuit board NACs with two-stage capability.
Selectable strobe synchronization per NAC.
3.0 amps maximum per each NAC circuit.
Note: Maximum 24 VDC system power output is shared among all NAC circuits and 24 VDC special application auxiliary power outputs. Total available output is 7.0 amps.
ADVANCED FIRE TECHNOLOGY:
Sensitivity testing with printable results, onsite or offsite.
Automatic drift compensation.
PROGRAMMING AND SOFTWARE:
Autoprogram (learn mode) reduces installation time.
Fully programmable from local keypad, local PS/2 keyboard or PC (using the standard PS-TOOLS Windows® utility).
Two-level user-programmable passwords.
Custom English labels (per point) may be manually entered or selected from an internal library file.
Three Form-C relay outputs (two programmable).
99 software zones.
USER INTERFACE:
Optional plug-in DACT-UD2 communicator (standard with MS-9600UDLS(E) with USB port for local upload/download.
Remote Acknowledge, Silence, Reset and Drill via addressable monitor modules, ACS Series annunciators, LCD-80F remote annunciator, or ANN-80 Series Annunciators.
EIA-232 printer/PC interface (variable baud rate) on main circuit board.
Integral 80-character LCD display with backlighting.
Real-time clock/calendar with automatic daylight savings adjustments.
History file with 1,000-event capacity.
EIA-485/ANN-BUS supporting up to 8 ANN Series Annunciators or 32 ACS Series annunciators.
EIA-485 supporting up to 32 ACS annunciators.
Maintenance alert warns when smoke detector dust accumulation is excessive.
Automatic device type-code verification.
One person audible or silent walk test with walk-test log and printout.
Point trouble identification.
Local piezo sounder.
Waterflow (nonsilenceable) selection per monitor point.
System alarm verification selection per detector point.
PAS (Positive Alarm Sequence) and presignal delay per point (NFPA 72 compliant).
Optional 4XTMF module (conventional reverse polarity/city box transmitter).
Field-programming Features
Off-line Programming: Create the entire program in your office using a Windows®-based software package (order programming kit PK-CD, containing PS-TOOLS, separately). Upload/download system programming locally to the MS-9600LS/E in less than one minute.
Autoprogramming: Command the MS-9600LS(E) to program itself (takes less than 30 seconds). In the Auto-Program mode, the MS-9600LS(E) scans for all possible devices at all addresses, stores the device types, and addresses found, and then loads default values for all options (General Alarm). It also checks for two or more devices set to the same address.
Online Editing: While still providing fire protection, the MS-9600LS/E may be programmed from the front panel. Simple menu trees displayed on the LCD allow the trained user to perform all functions without referring back to the programming manual.
English Label Library: Quickly select labels from a standard library of more than 50 adjectives/nouns, such as "FLR 3 HALLWAY," or enter custom labels letter-by-letter. Use ecall function to repeat previously used label.
Program Check: Automatically catch common errors, such as control modules not linked to any zone or input point.
Maintenance Alert
The MS-9600LS(E) continuously monitors each smoke detector and is capable of reporting maintenance conditions. This reduces the risk of false alarms due to dust accumulation. Refer to the control panel installation manual for more information.
Automatic Test Operation
The MS-9600LS(E) performs an automatic test of each detector every two hours. Failure to meet the test limits causes an AUTO TEST FAIL trouble type. System Reset clears this trouble.