The Need
It is estimated that over 12 million home cooking fires go unreported, causing 640,000 injuries annually. When you think about that, it is staggering, and an issue that many families neglect considering. If you believe that a fire can't or won't happen to you, please read the following statistics.
45 house fires are reported every hour somewhere in the US
Cooking fires cause more than 7 billion dollars in damage every year
41% of home fires are cooking related
67% of cooking fires originate on the stove
72% of college campus fires are cooking related
Cooking fires attribute more than 25 million dollars in damages to college campuses each year
60% of apartment fires are started by cooking equipment
34,000 kitchen fires occur each day
The Solution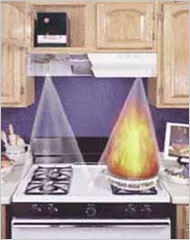 The risk is high, the loss is great, but the solution is simple…Guardian Safety Solutions International
The loss of your home.
Injury to family members.
The loss of life.
The cost of a fire's devastation is immeasurable.
The time to protect yourself against a range top fire is before it strikes. By simply installing the Guardian, property owners, residents, and relatives can rest at ease knowing that potential cooking fires stand no chance in a Guardian protected kitchen.
How it Works:
The Guardian is designed to detect and extinguish cooking fires at the same time preventing re-ignition. Upon detecting heat at a pre-determined temperature, a signal is sent to release the extinguishing agent to suppress the fire, at the same time shutting of the gas or electric supply to the stove in order to prevent reigniting. The superior design of the system provides:
automatic operation
continuous 24-hour protection
concealed installation
easy clean-up
proven reliability
The Guardian range top fire suppression systems protect property and save lives.