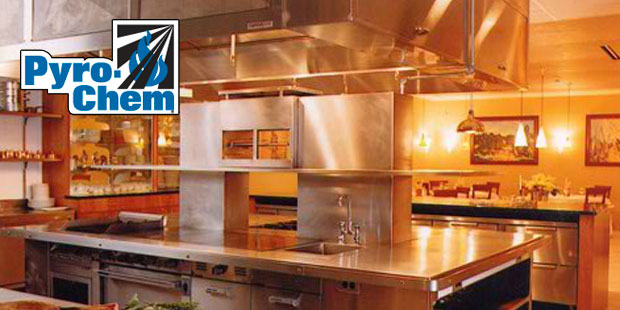 PyroChem Kitchen Knight® II System
The modern commercial cooking area serves up a smorgasbord of potential fire hazards.
Cooking appliances today allow for the potentially dangerous mixture of flammable oils and greases with high efficiency heat sources, creating an environment in which fire is always a threat. Ventilating systems deposit grease from exhausted vapors throughout the hood, filters and ducts. Electrical power lines and gas service lines add fuel to the hazard area, and must be shut off in case of fire. Alarms and other electrical devices must be activated. KITCHEN KNIGHT II system can protect all these diverse hazard areas and perform all the auxiliary functions.
The KITCHEN KNIGHT II system offers breakthrough technology enhancing the industry's most flexible and effective suppression system.
Extended Coverage
Enhanced Components

Flexible Conduit

Replaces rigid conduit between the control head and the gas valve and between the control head and manual pull station
Saves on installation time
UL Listed
No unsightly conduit

Nozzles

Only five nozzles to inventory
Individual swivel adapters
High and low proximity ranges from 10 to 50 inches (254 to 1270mm)
Chrome caps help protect against contamination and blockage

Cylinders

5, 10, 15, and 20 flow cylinders offer more coverage

Piping Flexibility

Incorporates 1/4 to 3/4 inch pipe
Simple piping rules

Back Shelf Protection
The fire extinguishing agent is a potassium carbonate-based water solution that knocks the flame down, cuts off air to the burning grease and cools the hazard area to help insure the fire stays out.
The Kitchen KnightKITCHEN KNIGHT II system has been tested and approved in accordance with the UL testing standard for kitchen cooking areas, Standard UL-300.
Extensive research and development on KITCHEN KNIGHT II system components. Continuous improvements to virtually every aspect of the system provide affordable, effective protection for your cooking area.
Make the KITCHEN KNIGHT II system part of your fire protection plan.