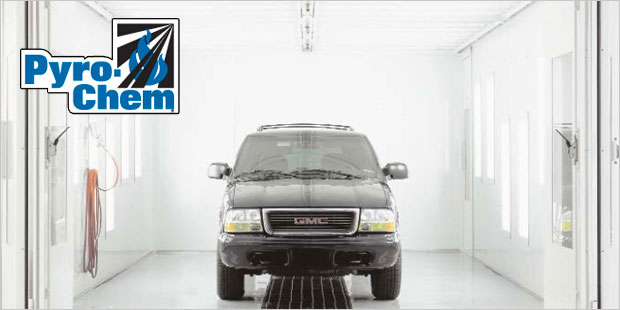 PyroChem Monarch Pre-Engineered Dry Chemical System
Industrial and automotive commercial environments can develop a truckload or potential fire hazards.
Hazardous material storage areas and commercial paint spray booths today involve highly flammable liquids, creating an environment in which fire is always a threat. Fumes can build up, chemicals can leak or spill. Add an ignition source and it becomes a potentially devastating combination. If fire occurs, systems must be shut off and alarms and other electrical devices must be activated. The MONARCH Pre-Engineered Dry Chemical System can protect a diverse range of hazard areas and perform all the necessary auxiliary functions.
The MONARCH System is an industrial-strength leader for the following applications:
Vehicle and Industrial Paint Spray Booths
Open Faced Industrial Paint Spray Booths
General Industrial Total Flooding
General Industrial Local Application
Close attention to product performance and customer satisfaction has fired up some commercial-sized advantages with the MONARCH Pre-Engineered Dry Chemical System.
Superior After-Sale Service and Technical Support
Unbeatable 8 by 12 ft. (2.4 x 3.7m) Screening Coverage
Overhead Protection up to 20 ft. (6.1m) – Ideal for Truck Booths
Side-Wall Nozzle Stacking to Unlimited Heights
Side-Wall Nozzle Protection for Full-Filtered Standard Vehicle Booth
Superior Duct and Plenum Coverage
Extended Nozzle Coverage (Means Fewer Tanks and Lower Cost)
Tanks Can Be Distributed around Protected Area
Balanced Piping Flexibility
Easy Installation – Few Piping Limitations
MONARCH systems offer breakthrough technology in the industry's most flexible and effective fire suppression system. The fire extinguishing agent is dry chemical which, pound for pound, suppresses more fire than any other agent.
MONARCH Industrial Systems have been tested and approved in accordance with UL and applicable NFPA standards. Columbus Fire & Safety technicians have been extensively trained in system design, installation and maintenance.
Make the MONARCH Pre-Engineered Dry Chemical System part of your Fire Protection Plan.